Heavenly Spa Menu
HEAVENLY SPA MENU
MASSAGES
HEAVENLY SIGNATURE MASSAGE
-
60
A heated compress invites back muscles to relax before a Swedish massage leaves you feeling physically rested and mentally uplifted. BHD 60 for 60 minutes or BHD 70 for 90 minutes
DEEP TISSUE MASSAGE
-
55
Focusing on realigning deeper layers of muscles and connective tissues, the massage is especially helpful for chronically tense and contracted areas such as stiff necks, lower back tightness, and sore shoulders. BHD 55 for 60 minutes or BHD 65 for 90 minutes
AROMA MASSAGE
-
55
A calming massage that combination of long strokes and soft effleurage, surrenders you to nature's gentle and soothing touch. BHD 55 for 60 minutes or BHD 65 for 90 minutes
FUSION DRY MASSAGE
-
50
By applying pressure along the meridians, this oil – free treatment unblocks trapped energy. Often referred to as passive yoga, it stretches joints and balances all the major muscle groups of the body. A great physical experience that integrates the mind, body and soul. BHD 50 for 60 minutes or BHD 60 for 90 minutes
REFLEXOLOGY
-
35
A therapeutic alternative medicine involving the physical act of applying pressure to the feet with a special technique without the use of oil or lotion. BHD 35 for 30 minutes or BHD 45 for 45 minutes
ASPIRE MASSAGE
-
35
Diverse massage techniques are customized to answer one simple question. How do you want to feel? BHD 35 for 30 minutes or BHD 55 for 60 minutes or BHD 65 for 90 minutes
BODY TREATMENTS
SALTMOUSSE GLOW FULL BODY EXFOLIATING
-
40
Increase negative ions release into the skin for a healthier and softer body skin. French sea salt and organic fruit extracts enriched in pro-vitamin A and carrot seed oil are applied to your body recreating the seawater ambiance experience. This revolutionary anti-aging; saltmousse refines your skin unlike any other exfoliation treatment. Spa guests may choose from two natural extract aromas: papaya-pineapple or mango-passion fruit. BHD 40 for 45 minutes
FULL BODY POLISH TREATMENT
-
40
Aromatic and gentle, this creamy body polish exfoliates dry skin and polishes away toxins. Your skin resurfaces silky-soft and wonderfully hydrated. Ideal as a pre-treatment service. BHD 40 for 45 minutes
DE-AGING YOGURT CREAM WRAP
-
55
Yogurt wrap drenched with Mango-Passion fruit extracts. This tropical wrap is rich in: malic, tartaric, and citric acids, potassium, calcium, glucose, and other key anti-aging ingredients such as repairing Vitamin C. As the creamy yogurt formulation is applied all over your body, you are transported to a sublime tropical oasis where your senses are gently awakened and phenomenal visible results are obtained. Your skin emerges revived, refreshed, smoother, firmer, and vividly brighter. BHD 55 for 60 minutes
ANTI-CELLULITE BODY TREATMENT
-
55
Slim and tone your body with a cutting-edge cellulite treatment. This slimming and toning wrap stimulates your body's ability to break down fat, increase metabolism and eliminate water retention. Pure 100% Micronized Green Coee, naturally rich in Chlorogenic Acid, Polysaccharides, Proteins, and Essential Oils, soothes and enhances your skin's overall texture, visibly reducing spongy, dimply, cellulitic areas. This treatment can also be performed locally on men as an abdominal shaping sports wrap. BHD 55 for 60 minutes
BACK TREATMENT
-
35
The hard-to-reach back area needs cleansing and pampering too! This treatment includes exfoliation, aromatic steam, deep pore cleansing, and a pore refining mask. A light massage and veil of moisturizer conclude this treatment. BHD 35 for 30 minutes
FACIALS
A DEEP PORE CLEANSING FACIAL
-
45
This purifying treatment consists of steaming, exfoliation, and an intense deeper cleansing of clogged pores. A skin-type specific ampoule is then gently massaged into the skin of your face, neck, and décolleté, followed by a therapist-selected mask. Beneficial for all skin types. BHD 45 for 60 minutes
LUMAFIRM LIFT & GLOW FACIAL
-
65
Seeking a treatment with amazing instant results? Redefining radiance and facial contouring, this exclusively formulated treatment features the latest in freeze-dried technology to deliver instant results and cumulative skincare benefits. Ideal for any skin type showing signs of aging or as the perfect instant repair boost when you want to look your absolute best. Proven to perform, the Pevonia lumafirm® Lift & Glow facial renders your skin ultra-luminous with a firmer, tighter, and more youthfully defined appearance. BHD 65 for 75 minutes
HYDRA CLOUD TREATMENT
-
65
Pevonia's NEW Hydra-Cloud™ Treatment features a highly concentrated Fragmented Hyaluronic Acid at a minimum molecular size for deep absorbency (one of the highest concentrations on the market). As an exceptional hydrating agent, it holds up to 1,000x's its weight in water! Pevonia's Hydra-Cloud Mask™ Treatment pairs Hyaluronic Acid with a powerfully formulated micronized Cotton blend. This blend is loaded with fast-acting, repairing agents and negative ions that work quickly to repair, deeply hydrate, cool, and firm the skin. Recommended for all skin types, including mature, sensitive, perimenopausal and menopausal, dry, and dehydrated skin. Also suitable as a supportive treatment for Rosacea. BHD 65 for 75 minutes
LUMINOUS C & SEA MASK TREATMENT
-
70
A radical facial treatment for dull and dehydrated skin. This facial combines the high potency of Vitamin "C" with a stimulating Freeze-Dried Seaweed rendering skin firmer, brighter, more rejuvenated, and velvety-soft. An excellent treatment for smokers, sunbathers and sun-damaged skin. Soft lift-off mask. BHD 70 for 90 minutes
HAMMAM
MOROCCAN BATH
-
60
An age old traditional cleansing ritual of Morocco which has spread across the Middle East and is popularly known as Hammam Maghrebi. This ritual is done to cleanse, whiten and soften the skin. It also helps with relaxing tired nerves and muscles while enhancing the blood circulation of the body. Scrubbing with the loofah encourages the removal of dead skin and dirt. Rhassoul clay is applied on the body which improves skin clarity, elasticity and firmness, while enhancing skin texture. BHD 60 for 60 minutes
TURKISH HAMMAM
-
60
Enjoy a traditional Turkish Hammam treatment to capture the luxury and majesty of the ancient Ottoman Empire, leaving your mind and body refreshed and rejuvenated. Begin with a full-body exfoliation on the heated marble bed, followed by a delicate foam massage. BHD 60 for 60 minutes
COUPLE PACKAGES
TIME TOGETHER
-
235
Time together begins with a 15 minutes steam treatment followed by a 30 minutes cleansing scrub followed by a 45 minutes wrap. Next an invigorating 60 minutes massage soothes your senses. Your ultimate experience is concluded with a 30 minutes rejuvenating Jacuzzi in the luxurious couple's spa suite. BHD 235 for 180 minutes
ROMANTIC DAY
-
190
Begin your romantic journey with a 15 minutes steam followed by a 15 minutes footbath. Next ease away the stress of everyday life with a rejuvenating 60 minutes massage followed by 30 minutes of express facial to revive and hydrate the skin, then end it with 30 minutes romantic bath with the choice of chocolate or flower bath. BHD 190 for 150 minutes
ENHANCEMENTS
EYE TREATMENT FOR PUFFINESS & DARK CIRCLES
-
15
Counteract puffiness and dark circles with an instant-release collagen biomatrix infused with ginkgo biloba. This natural fiber mask treatment increases peri-orbital circulation, soothes, cools, and decongests the fragile eye contour while visibly reducing puffiness and dark circles. Eyes are rendered visibly rejuvenated. Ideal as a jet lag treatment for men and women.
LIPS TREATMENT
-
15
This potent lipofiller and anti-aging treatment targets the delicate lip and mouth area to instantly and progressively achieve fuller, plumper lips and smoother, more youthful skin surrounding the mouth for a more perfect pout. It utilizes Sesamum Indicum Seed Extract from sesame seeds since the latest research reveals it increases lipid synthesis and storage capacity by 30.2%. It effectively addresses the symptoms of aging that develop around the mouth: loss of lip volume and pliability, lines and wrinkles and overall smaller appearance combined with lipstick bleed and drier lips overall.
FACE GUA SHA
-
10
Pronounced gwa sha, it's a facial treatment that involves scraping a flat jade or rose quartz stone over the skin in upward strokes to relax stiff muscles and promote tissue drainage.
HAIR AND SCALP
-
15
Hot oil head massage is a healing process through vital points (Marmas) of convergence located in your head. It can regulate the driving force and energy (Vayu) of all your body activities, reflecting healthy hair and scalp.
HOT STONE
-
10
Heated black granite stones placed on your body meridian point to de-stress and help faster healing.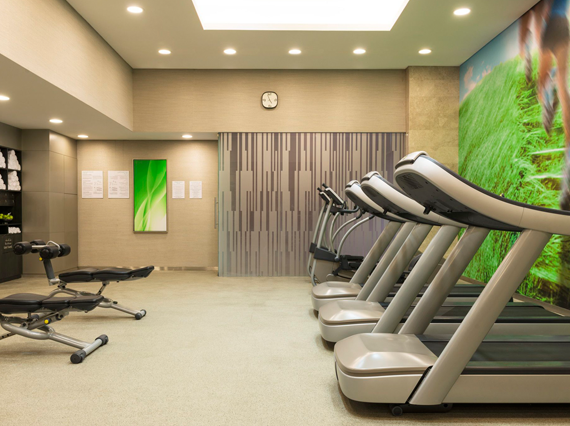 Become a Westin Workout member and benefit from:
Complimentary spa amenities, Two complimentary Day Passes to the Swimming Pool to be used during week days only, 20% discount on all Spa treatments and Hammam, Free access to the spa facilities, Free access to the gym facilities, Free access to the swimming pool, Free valet parking