Memberships
HEAVENLY SPA MENU
MASSAGES
HEAVENLY SPA SIGNATURE MASSAGE
-
50
A heated compress invites back muscles to relax before a Swedish massage leaves you feeling physically rested and mentally uplifted. 60/90 mins
ASPIRE MASSAGE
-
50
Natural aromatherapy oils and diverse massage techniques are customized to answer one simple question. How do you want to feel? 60/90 mins
HOT STONE MASSAGE
-
50
The heat from the stones helps your muscles relax, allowing the massage therapist to manipulate your deep tissues more effectively. Overly tense muscles can hinder the massage procedure, so if your muscles are extremely tight or stiff, the heated stones may provide the extra relaxation you need for the massage to be beneficial in releasing tension and easing sore muscles. 60/90 mins
DEEP TISSUE MASSAGE
-
50
Focusing on realigning deeper layers of muscles and connective tissues, the massage is especially helpful for chronically tense and contracted areas such as stiff necks, lower back tightness and sore shoulders. 60/90 mins
SWEDISH MASSAGE
-
50
A western technique, Swedish massage employs five different movements: long gliding strokes, kneading, friction, tapping and vibration. It is a light pressure massage developed to increase the oxygen flow and release toxins from the muscles. 60/90 mins
TRADITIONAL THAI MASSAGE
-
50
By applying pressure along the meridians this oil-free treatment unblocks trapped energy. Often referred to as passive yoga, it stretches joints and balances all the major muscle groups of the body. A great physical experience that integrates the mind, body and soul. 60/90 mins
BALINESE MASSAGE
-
50
A full body, deep tissue, holistic treatment which uses a combination of gentle stretches, acupressure, reflexology and aromatherapy to stimulate the flow of blood, oxygen and "Qi" (energy) around your body and bring a sense of well-being, calm and deep relaxation. 60/90 mins
AROMA MASSAGE
-
45
Using natural essential oils thought to have healing properties, a combination of strokes and soft techniques, surrender you to nature's gentle and soothing touch. 60/90 mins
REFLEXOLOGY
-
40
A therapeutic alternative medicine involving the physical act of applying pressure to the feet with a special technique without the use of oil or lotion. 30/45 mins
BODY TREATMENTS
CRYSTAL SALT SCRUB
-
35
Scrubbing away dead skin cells promotes the growth of healthy new cells. Minerals and magnesium help remove bacteria; the scrub unclogs the pores and reduces discoloration. 30 mins
CHOCOLATE BODY WRAP
-
35
Detoxifies, tones, moisturizes and softens the skin while the aromatic notes create the feeling of well-being and relaxation. The treatment tends to increase fat reduction. 30 mins
COFFEE WRAP
-
35
Coffee grounds enhance blood circulation and contribute to the reduction of cellulite whilst also increasing body tone and firmness. 30 min
RUB UP
-
45
Reveal velvety like skin with the luxurious full body customized "RUB" of Creamy Shea Butter Scrub that hydrates while purifying both body and skin. Fire and Ice gel is applied to help relieving aches and pains and opening up the meridian lines.
DRENCH UP
-
65
Begin your spa escape with a luxurious full body polish. "DRENCH" and layer your back with a Clay Souffle Mud Mask together with a mineral rich Thermal Powder that produces heat and rich in magnesium to complete the journey.
EASE UP
-
95
Enjoy a custom Salt of the Earth body treatment experience that begins with a full body exfoliation followed by a warning thermal back and foot mask. "EASE" up with a decadent Whipped Body Cream full body massage all topped off with a Fire & Ice application on sore joint and muscle application
HAMMAM
TRADITIONAL TURKISH HAMMAM
-
50
Enjoy a traditional Turkish Hammam treatment to capture the luxury and majesty of the ancient Ottoman Empire, leaving your mind and body refreshed and rejuvenated. Begin with a full body exfoliation on the heated marble bed, followed by a delicate foam massage. 45 mins
ROYAL HAMMAM
-
55
Enhance the Turkish Hammam experience with an ancient purifying full-body ritual, followed by nourishing body treatment of honey mask or Arabic coffee mask. Awaken your senses and leave your skin feeling illuminated and renewed. 60 mins
MOROCCAN BATH
-
60
An age old traditional cleansing ritual of Morocco which has spread across the Middle East and is popularly known as Hammam Maghrebi. Cleanse the skin and enhance the blood circulation. First your body is rinsed and then a black olive soap is applied, followed by 10 minutes of steam to open up the pores. The olive soap penetrates the upper layer of the skin, making it soft and ready to exfoliate. The body is then rinsed and it is now ready for the exfoliation. The exfoliation procedure starts with special rough gloves called loofah. Scrubbing with the loofah encourages he removal of dead skin and dirt. Next, Rhassoul clay is applied to aid skin clarity, elasticity, and firmness while enhancing skin texture. 60 mins
SPECIAL MOMENTS HAMMAM
-
80
Escape the over stimulation of the real world and enter an ancient world of tranquility and tradition, where you are our only priority. Pamper yourself in a private moment with a traditional Turkish Hammam experience, followed by a special body mask and relaxing massage or deep cleansing facial at the gentle and skilled hands of a professional therapist. 120 mins
MARRAKESH RITUAL
-
95
Complete the Moroccan Bath treatment with a de-stress massage and a facial. 120 mins
Signature Treatments
ENERGIZE SCRUB
-
35
The body is scrubbed using a personalized aromatherapy body wash and natural exfoliating olive gains, leaving the skin feeling smooth and the mind energized. 30 mins
REVIVE FACIAL
-
60
The soothing extraction-free aromatherapy facial is customized with oils based on how you want to feel after the treatment. 50/75 mins
RENEWAL RITUAL
-
35
An unforgettable 30 minute aromatic and therapeutic scalp and shoulder massage with a moisturizing hair oil treatment. 30 mins
SINGLE PACKAGES
FIRE AND WATER
-
130
A gentle sea salt exfoliation scrub helps shed dead skin cells and promotes cell renewal. Soft or deep tissue massage is followed by acupressure to rebalance the body, mind and soul. The package culminates in a harmonizing Aromatherapy Associates facial that leaves your skin radiant and glowing. 165 mins
HEAVENLY SPA EXPERIENCE
-
90
Start with a soothing foot bath to awaken your senses, next a nourishing scrub followed by a full body massage with botanical infusions; and finally, a clay and herbal flower mask to stimulate sleepy tissue and give you an illuminated from within instant glow. 120 mins
HOPE
-
80
Skin smoothed, muscles released and thoughts uplifted with an aromatic scrub and relaxing Swedish massage (Body Scrub and Heavenly Spa Signature Massage)
DREAM
-
90
Surrender to the healing touch of massage, followed by a soothing aromatic facial elevating the mood. (Heavenly Spa Signature Massage and Facial).
WISH
-
110
Pamper your skin, body and scalp with uplifting - aromatic treatments that restore a sense of balance and well-being. (Body Scrub, Body Massage and Scalp Massage)
COUPLE PACKAGES
TIME TOGETHER
-
220
Time together begins with a 15-minute steam treatment followed by a 30-minute body cleansing scrub. Next, an invigorating 60-minute signature massage soothes your senses, followed by a 45-minute wrap. Your ultimate experience is concluded with a 30-minute rejuvenating Jacuzzi in the luxurious couple's spa suite. 180 mins
ROMANTIC DAY
-
180
Begin your romantic journey with a 15-minute steam followed by a 15-minute foot bath. Next ease away the stress of everyday life with a rejuvenating 45-minute massage and a 45-minute facial. End your day with a 30-minute romantic bath with the choice of chocolate, milk or flower bath. 175 mins
FACIALS
GEL PEEL TREATMENT
-
55
This treatment is designed to reduce the appearance of surface lines, soften raw skin tissue, help cleanse acne, and eliminate skin pigmentation due to sun damage. Glycolic and lactic acids help remove dead cells from the surface of the skin without irritating the skin and enhancing new skin cells. At least 5 sessions are recommended for best results.
GENTLEMAN RESCUE
-
60
Tailored to the specific needs of male skin this simulating and refreshing treatment deep cleanses, removes dead skin cells, steams, extracts and nourishes the skin to help protect against environment damage and effects of razor burn, leaving your skin clean and vitual.
REVIVE FACIAL
-
60
Contains minerals and biologically active extracts for skin treatment, nutrition, cleansing and freshness. It also treats all your skin's needs, cleanses and exfoliates.
FOOD MENU
EAT WELL MENU
SHISH TAWOOK
-
3.50
Chicken breast, saj bread, boise salad and oriental tomato sauce
ORIENTAL CHICKEN BROTH WITH SHRIMP (S)
-
2.50
Lemon grass, green vegetables, soy noodles and sesame oil
Starters
CAPRESE SALAD (N) (V)
-
7.00
Vine ripe tomatoes, buffalo mozzarella, aged balsamic, extra virgin olive oil, basil pesto
BEEF BRESOLA (N)
-
7.50
Rocca leaves, cherry tomato, haloumi cheese, grilled artichokes, pine seeds, Italian dressing
PRAWNS QUINOA SALAD (S)
-
7.50
Quinoa, orange, avocado, red radish, mix greens, pomegranate, citrus vinaigrette
Sandwiches
CRISPY CHICKEN SCHNITZEL (V)
-
6.50
Sundried tomato pesto, avocado, melted cheese, farm bread
ROASTED VEGETABLE FOCACCIA (V)(N)
-
6.00
Pesto, melted mozzarella cheese, Rocca leaves, olive tapenade
Mains
ROASTED FILLET OF SCOTTISH SALMON
-
12.00
Charred baby broccoli, coriander mashed potato, lemon beurre blanc
MALAYSIAN NASI GORENG (S)(N)
-
8.50
Fried egg, chicken satay, pickled cucumber, prawn crackers
PARAMESAN - CRUMBED VEAL CUTLET
-
12.00
Rosemary jus, sweet potato mash, cilantro, glazed young vegetables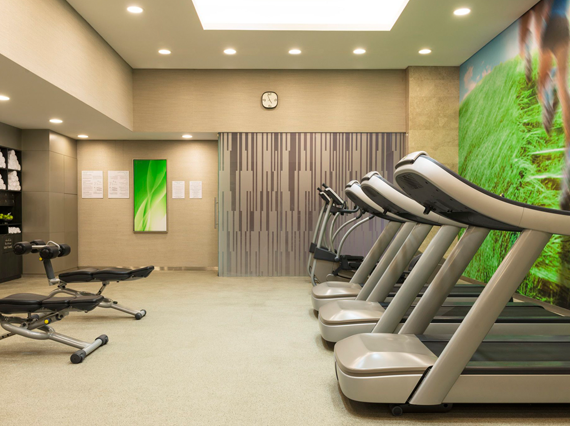 Become a Westin Workout member and benefit from:
Complimentary spa amenities, Two complimentary Day Passes to the Swimming Pool to be used during week days only, 20% discount on all Spa treatments and Hammam , Free access to the spa facilities, Free access to the gym facilities, Free access to the swimming pool, Free valet parking